Testing and Quality Control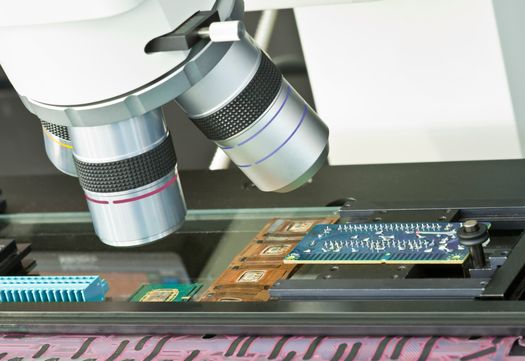 We test and adjust complex assemblies and electrostatic sensitive devices with permanently highest precision and reliability.
Testing of electromechanical assemblies

Expertly experienced in demanding medical technology quality assurance, our qualified employees perform functional, load and final testing of complex assemblies and highly sensitive components such as sensors or circuit boards with the highest precision and reliability.

Function Test


Systematic testing of the basic function of all electronic components and their interaction.
CrossTEQ application example:
Acquisition of test images with radiation therapy imager.

Burn-in Test


Testing of the load capacity of components, assemblies or complete devices in continuous operation.
Application example of CrossTEQ: Frequency acquisition of dark field images and generation of drift images with radiotherapy imager during 48 hours.

Factory Acceptance Test (FAT)
To validate equipment operation and ensure that order specifications and customer quality and functional requirements have been met.
Application example at CrossTEQ: Final acceptance test (X-ray test) for the acquisition of X-ray test images with radiotherapy imagers.


CrossTEQ complies with all ISO 9001 standard requirements and is committed to their practical implementation in all areas of the company. Thus, each manufactured system, or subsystem is subject to strict quality monitoring by our qualified and regularly trained staff. Only after the inspection is successful, the assembly of the module or device is completed.

Thanks to completely digitized manufacturing processes, we ensure maximum process reliability and state-of-the-art quality.

As a result, we detect errors and risks more quickly and can trace back deviations without gaps;
On the other hand, this allows us to guarantee the traceability of all materials and components used.

99,9986%
Error detection rate 2021
We specialize in the demanding quality assurance of electrostatic sensitive assemblies and devices.

We assemble, test and adjust your complex assemblies and highly sensitive microelectronics with permanently highest precision and reliability. Contact us and learn more.
Test requirements and test instructions

Qualification

CrossTEQ AG ensures that personnel are appropriately trained in the performance of assembly and device tests. Only regularly trained production personnel may perform tests (function test, burn-in test, factory acceptance test) after production has been completed.
Test environment and precautions

Our quality personnel (production manager and production engineering manager) maintain and implement work instructions, test environment guidelines and any precautionary measures (especially for electrostatic sensitive devices!).
Testing software

The test application software guides the tester through the various test steps and executes the automated test section where possible. The test application documents and creates digital test reports, which the tester must sign.
Reports

Deviations/defects are noted on the test report. Any corrective actions and subsequent regression testing will be described in detail.
As per the supply agreement, CrossTEQ archives reports as part of the Device History Record (DHR). Each report is traceable to the component by part identification number and serial number.
Responsibilities

Our quality personnel perform the Quality Assurance (QA) buyoff for product release and confirm proper manufacturing, testing and reporting by electronic signature before delivery to the customer.
Are you looking for an experienced and reliable system supplier in Switzerland?

Decide to outsource individual or all product creation processes to us. We will be happy to support you on your way to success.
Your advantages with CrossTEQ as a partner

Streamlining processes

By outsourcing your component assembly and other tasks and production processes to us, you streamline your own business and remain agile.

Save resources

By entrusting us with the assembly of your subassemblies, you save your own resources in terms of personnel, infrastructure and technology and can instead deploy them more efficiently at key internal points.

Pragmatic and efficient

At Cross Assembly, we maintain dynamic staffing and production planning, efficient manufacturing processes, and short lines of communication with both our customers and our, or your, suppliers.

Maximally reactive and flexible

We build on secure sources and proportionate reserves and redundancy in material and personnel planning in order to be able to deliver to you on time and in quality, even for short-term assembly orders.