Thermoplastic compression molding enables the efficient recycling and optimal use of industrial plastic waste

Whether before, during or after production, waste is generated in industrial companies in large quantities and from various sources in the product life cycle.
Offcuts, rejects and rejected products end up in landfills, where they are usually incinerated because recycling this coarse, inhomogeneous or mixed waste is time-consuming and expensive.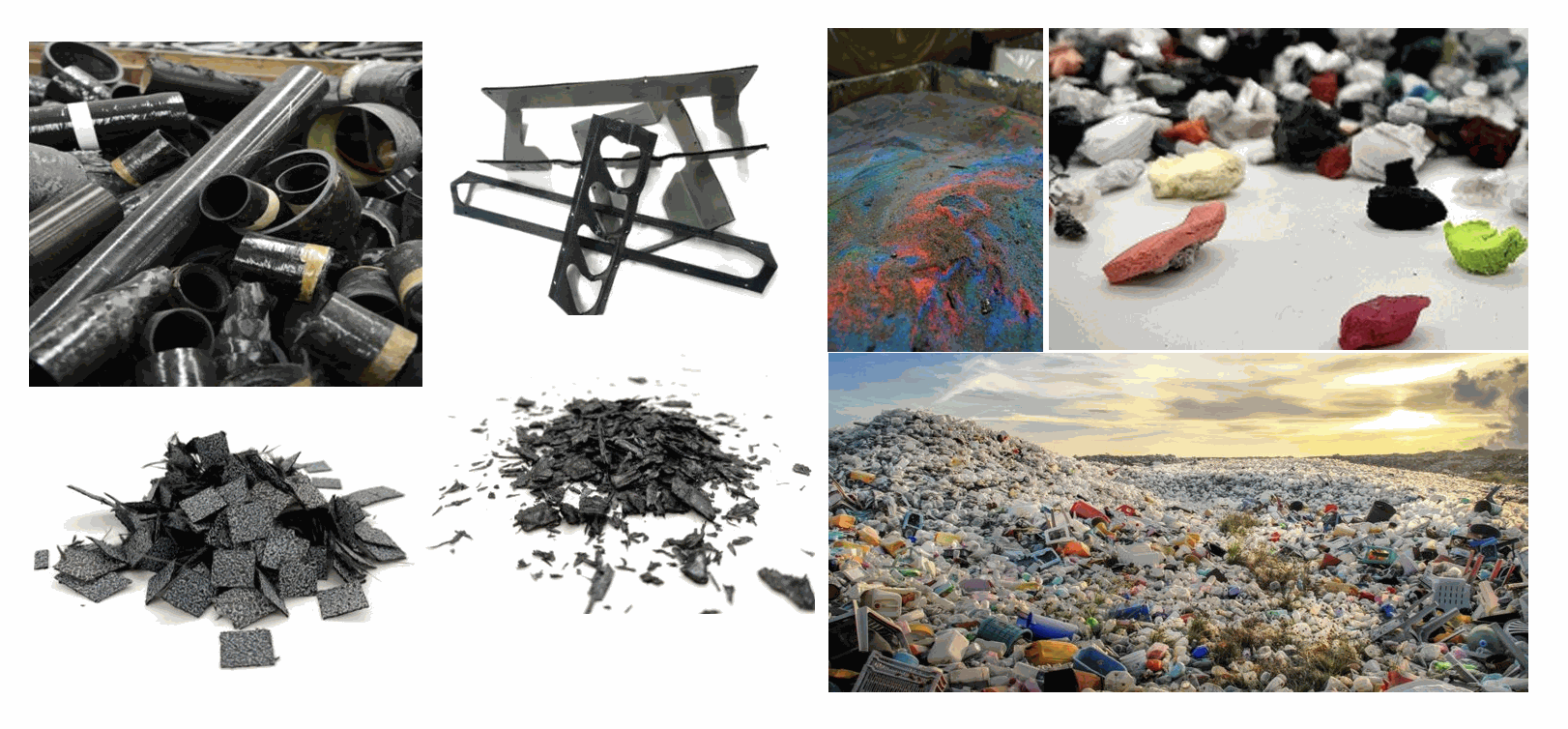 For this purpose, CrossTEQ has developed an unconventional process that allows industrial companies to recover added value from their plastic and composite waste in an economical and ecological way. 
Different waste streams, different challenges


Along the product life cycle of a plastic part, waste is generated from various sources in an industrial plant:


Waste before production (offcuts) 


Waste after production (rejects, faulty parts) 


Waste at the end of the life cycle (product itself) 


Where low demands are placed on the raw material, established processes exist today (e.g. PET bottles).
However, the later the waste arises in the life cycle, the more difficult it is to bring it back into a usable form. The corresponding recycling processes to restore the original properties of the materials (e.g. grade purity, good flow behavior, homogeneity or pourability) are complex and correspondingly expensive. 


One recycling process for all waste 

CrossTEQ has developed a unique, end-contour accurate thermoset-based compression molding process that bypasses these costly processes and also opens up versatile possibilities for upgrading any waste stream in the industrial production process.

With A-Comp, industrial companies can:

Return own plastic and composite recyclates to (own) use,


Making optimum use of waste streams in the product life cycle


Bypass costly recycling processes and thus save costs,


Avoid thermal processing in recycling and thus reduce your own CO2 footprint,


Increase the use of bio-based reinforcing or filling materials in new products,


and reduce the proportion of virgin plastics in products.

Do you want to make the most of your industrial plastic waste?

We will be happy to advise you on your options with A-Comp Recycling.


A-Comp: High-quality composite components made from various industrial wastes

With A-Comp Compression Molding, CrossTEQ economically processes coarse, inhomogeneous or mixed plastic compounds into geometrically complex products.
With appropriately designed compression molds and material-specific pressure and temperature sequences, CrossTEQ produces high-quality composite products for diverse applications.
In this process, the plastic or composite recyclate together with a reinforcing plastic is introduced over a large area into the open cavity in a cold state and melted over a specific pressure and temperature curve and pressed to form the finished component.
A-Comp Recycling: Applications
Final contour-accurate molded parts with unique surface appearance made from low-grade plastic waste


Recyclate: Coarse plastic waste that is not sorted by type (end-of-lifecycle)
Applications: Cost-effective raw material and molds made of PEEK/CF for lightweight blocks


Business Case: Designer seat made from recycled On-sports shoes, On AG

Photo © On AG

Low-cost raw material from medium-value production scrap


Recyclate: Mid-value production scrap (mid-lifecycle)

Applications: Cost-effective raw material and molds made of PEEK/CF for construction blocks

Ultra-lightweight, high-performance building material made from high-quality composite recyclate


Recyclate: High-quality composite waste (end-of-lifecycle)

Applications: High performance PEEK/CF raw material and molds for structural blocks


Business Case: Closed-loop (cradle-to-cradle) recycling of a helicopter door hinge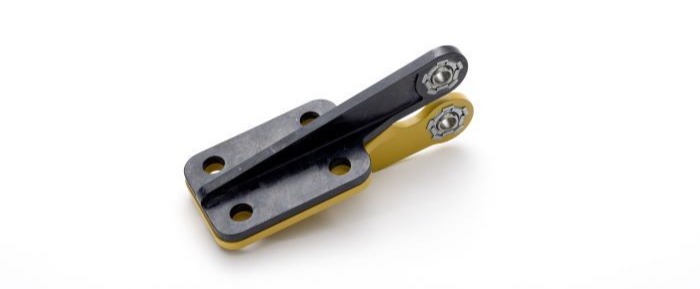 Cross Composite Helicopter Door Hinge
Photo © CrossTEQ AG
Do you want to make the most of your plastic waste?

For our partners, we develop product-oriented composite technologies for the efficient processing and recycling of various plastic wastes. Let us advise you now.
CrossTEQ presents A-Comp Recycling at JEC World in Paris





Experience the "Festival of Composites" with us -and learn more about our innovations and technologies at this unique event.